"Get ready to upgrade your wardrobe with the top 5 best-selling hoodies from Weed-hoodie shop. These hoodies are not only stylish but also comfortable, making them a must-have for any fashion-conscious individual. From classic designs to trendy prints, these hoodies are sure to catch your attention and impress everyone around you. So, take a look and find the perfect hoodie for your style."
1. Budtender, cannabis, uniform, Unisex Hoodie:
A Budtender is a customer service representative in the cannabis industry. Their role is to assist customers in purchasing cannabis products and provide information on the various strains, their effects and uses.
Unisex hoodies are a type of clothing that can be worn by people of any gender. They often have a hood attached to the neck and a front pocket.
In some cannabis dispensaries, Budtenders may be required to wear a uniform while on the job. This could include a hoodie with the dispensary's logo or a specific color scheme to easily identify the staff. The uniform helps maintain a professional image and ensures a consistent look among employees.
Don't miss it at: https://weed-hoodie.com/product/budtender-cannabis-uniform-unisex-hooded-sweatshirt-es2912/
2. Funny Support Your Local Farmers Weed Hoodie: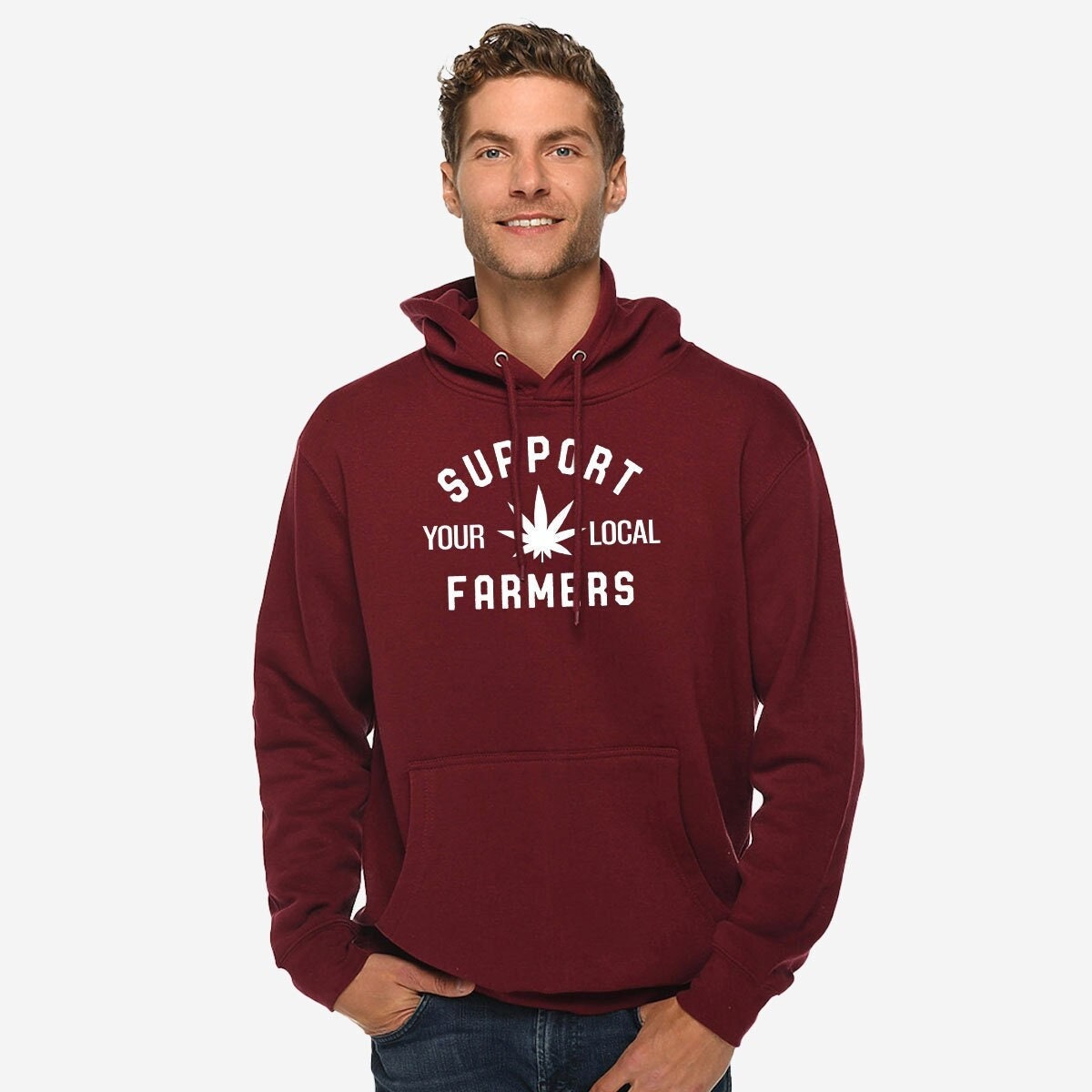 Support your local farmers with this weed hoodie! Comfortable and stylish, this hoodie is perfect for any supporter of the local agricultural industry. Featuring a bright green print on a yellow background, this hoodie is sure to make a statement. Made from 100% cotton, this hoodie is soft and comfortable to wear. Whether you're out campaigning for your favorite local farmer or just trying to show your support, this hoodie is perfect for you.
Check it out: https://weed-hoodie.com/product/funny-support-your-local-farmers-weed-sweatshirt-es2912/
3. Don't leave me skeleton Marijuana cannabis weed Hoodie:
When you're looking for a stylish and comfortable hoodie, search no further than the "Don't leave me skeleton" marijuana cannabis weed hoodie. This shirt is perfect for any casual or formal occasion, and the comfortable design will keep you warm all winter long. The vibrant colors and stylish print will make you stand out from the crowd, and the comfortable fit will let you wear it all day long without feeling uncomfortable.
Pay for it now: https://weed-hoodie.com/product/dont-leave-me-skeleton-marijuana-cannabis-weed-420-shirt-full-zip-up-hoodie-es2912/
4. I make weed disappear hoodie:
There's something about weed that just makes you feel comfortable. Whether it's a lazy afternoon spent on the couch with a good book and some weed, or simply relaxing at a party while smoking, it's a lifestyle that feels right. And in the world of fashion, it's no different. When it comes to making weed disappear, nothing is more comfortable than a well-printed hoodie. Sure, they might not be trendy, but they're perfect for when you just want to chill out and relax. And if you're looking for an easy way to make your fashion statement, these are the perfect pieces for you. So whether you're looking for a unique and stylish piece of clothing, or just want something to relax in, check out our selection of weed print hoodies. They're sure to make you feel comfortable and stylish at the same time!
Purchase it via https://weed-hoodie.com/product/i-make-weed-disappear-hoodie-front-design-es2912/
5. Cannabis Hoodie, Weed Hoodie, Marijuana Hoodie:
Do you want to be the coolest person at the party wearing a cannabis hoodie? Well, now you can! There are a variety of fashionable and comfortable cannabis hoodies available on the market today. Whether you're looking for something to wear to class or just to chill out with your friends, there's a cannabis hoodie for you. Some of the best cannabis hoodie designs include the weed hoodie, marijuana hoodie, and cannabis expert hoodie. All of these are designed with comfort and style in mind. They're made from soft fabrics that will keep you warm during winter weather, and they're stylish enough that you'll can wear them out without feeling embarrassed. If you're looking for a unique way to show your support for cannabis legalization, then a cannabis hoodie is the perfect choice for you. Not only are they stylish and comfortable, but they also make a statement about who you are and what you believe in. So whether you're a weed lover or just want to look cool while wearing something green, there's a cannabis hoodie out there that's perfect for you.
Here's the option for you: https://weed-hoodie.com/product/cannabis-hoodie-weed-hoodie-marijuana-hoodie-es2912/
You will be attracted to the Weed-hoodie shop for the first time, don't forget it at https://weed-hoodie.com/.